Nerf Toys for Dogs
I'm sure you've heard of the toy brand "Nerf"; they manufacture toy blasters that encourage you to engage in foam dart battle with your friends. We own a couple of Nerf guns at home and used to have epic Nerf battles before we got a dog. When we found out that Nerf also produced toys for dogs, you can imagine how excited we were to try them out. Our friend, Ke Ying (@Samforestloolim) passed us the Nerf Dog Tennis Ball Blaster, a Nerf to shoot balls out for dogs to catch. She knows that Polar enjoys catching tennis balls and thought he might enjoy it more than her dogs. All we had to do was buy a set of new balls to use it.
Nerf Dog Tennis Ball Blaster
Test 1 – Indoors
The nerf balls are pretty light; lighter than the usual tennis balls. This is probably so they won't hurt so much if they accidentally hit you or your dog. In terms of use, the process of loading and firing the gun is pretty smart; you can push the barrel of the gun directly onto the ball to pick it up, which means you don't to bend down and handle the ball. After that, you pull back the cocking mechanism to load and lock the ball for launch. Doing so generates loud sounds, and when you fire the gun, it gives off another loud sound.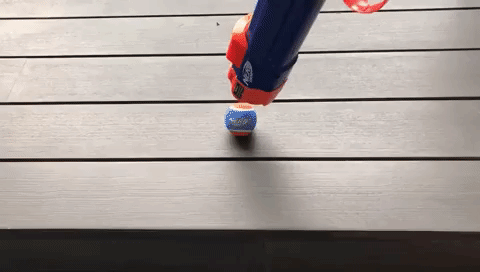 In the usual Nerf blaster context, this is normal. However, for our dogs who have never encountered Nerf blasters before, both Polar and Luna got shocked by the loud sound. When I fired the gun, Polar ran into the room and hid under our sheets while Luna froze up and peed herself before running away. It was an unintentionally hilarious response. We thought that maybe it was because our house is too small and they felt overwhelmed. We decided to try again in an outdoor setting to see if they would react similarly.
Test 2 – Outdoors
We tried it outdoors in a small garden area at our home compound and the results were the same – Polar and Luna got anxious the moment I picked up the gun. When I fired the gun, nobody ran for the ball, and they ran to the nearest hiding spot they could find – under the chair, under daddy's legs, or just against the wall. The negative association was so bad that even when I tossed the ball with my hand, none of the dogs went for it. This rarely happens; Polar generally loves playing fetch.
Verdict
In all honesty, I'm not convinced by the Nerf Dog Tennis Ball Blaster, and I get why @samforestloolim wasn't a fan either. It's novel, but it is also rather pricey, at $58 for the gun (which comes with 2 balls). The spare balls are not cheap either, at $16.50 for a pack of 4. If the dogs had actually enjoyed it, the investment could be worth it but given that they run for their lives, I don't think so. However, it is a good attempt by Nerf to appeal to dog owners with their toys, but I think they need to find a way to make it quieter so it doesn't end up scaring the dogs instead.
Nerf Dog LED Bash Football Light-Up Dog Toy

Very rarely do you find toys these days that light up, so I thought this might be a fun toy for both Polar and Luna. The material feels sturdy – made of rubber in the shape of an American football, which makes it easy to toss, and its bounce pattern unpredictable. The toy lights up from movement. This  toy kept the dogs distracted for a couple of hours, especially since the light catches their attention. My only question is how long the battery lasts. A couple of reviews on Amazon stated that the toy was easily destroyed by big dogs i.e. powerful chewers. I'm not sure how true this is but I'll update again if the toy gets destroyed. For now, it's something that gets them excited, and helps them forget the trauma of the Nerf tennis ball blaster 😀
Until next time, stay curious.
A special shoutout to Kohepets for sharing some credits with us. This has allowed us to discover a whole new range of toys that could make us broke in the coming Christmas holiday season!